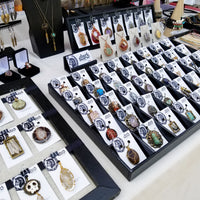 Handmade in Canada
All items are uniquely hand-crafted in Ontario, Canada by artist and designer, Amanda Currie.

"This whole process of creating an individual piece for me is spiritual. Amanda is a listening Maker and I'm just trying to intuitively capture a feeling I want to hold onto in representation." - Kiersty, Toronto

"Amanda completely understood my idea and concept! I wear it as much as possible, almost like it's a part of me. It just looks fantastic and totally original. I love it!" - Brandin, Toronto

"Dark Horse represents the potential power and world of possibilities that exist in all of us. Within the colour black exists every other colour on the spectrum; a whole rainbow world of unique hues residing within. Its like that rainbow flash you see in the feathers of a raven or in the shiny coat of a black horse - all of that exists there in potential waiting to be realized, waiting to be seen." - Amanda Currie
Empathic & Intuitive Design

custom jewellery designs for your highest good
let your true colours shine!